Let's be honest – almost every one of us loves ice cream!
There's a reason why this frozen dessert is so popular, after all. The sweet taste of ice cream can really tingle your taste buds – no matter your mood or food preferences. And that rich, creamy texture that just melts in your mouth – absolutely heavenly, if we may say so ourselves!
On that note, there are ice cream parlours almost everywhere these days. This means that you can get one whenever you want, which makes it even better!
But let's say that you have gone to visit Cornwall for a few days. Since you are new here, you will have no idea where to find a good ice cream parlour. If you find yourself in such a predicament, then fret not – for this guide has mentioned some of the best ice cream parlours you can find in this county.
So, let's satisfy that sweet tooth, shall we?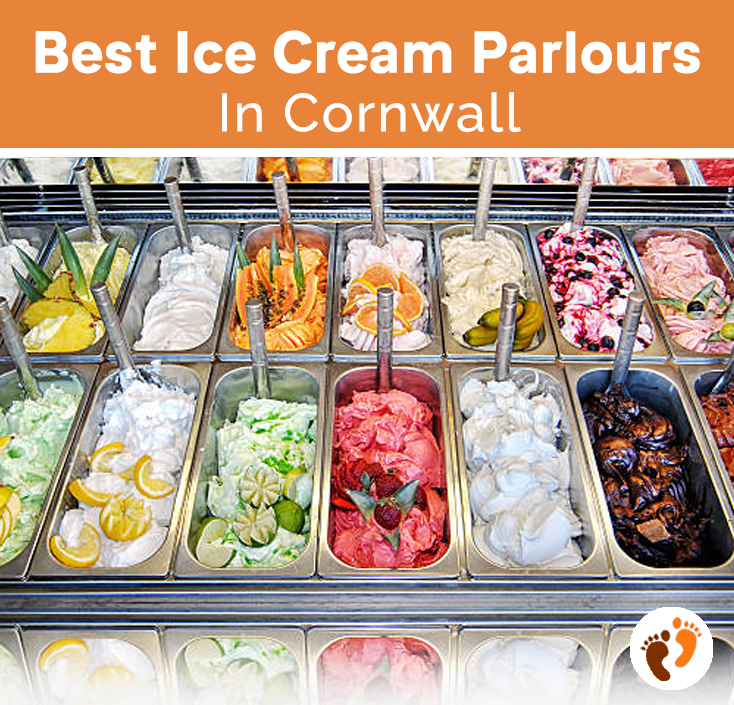 10 Best Ice Cream Parlours To Visit In Cornwall
Below, we have listed some of the most famous ice cream parlours that you can visit in Cornwall. Of course, there are many big-name ice cream brands available here too, which are easily available at almost every confectionery store. But we suggest going for the local brands, as that will allow you to experience the true taste of Cornish ice creams.
Anyway, let's take a look at some of the finest ice creams that Cornwall has to offer.
1. Moomaid Of Zennor, St. Ives
When talking about popular ice cream parlours in Cornwall, Moomaid of Zennor is one of the first names that come to mind. It is a luxury ice cream brand that offers different flavours of authentic Cornish ice cream to its customers.
The brand is based in the small Cornish village of Zennor near St. Ives, which is known throughout Cornwall for the legend of the Mermaid of Zennor. As such, the name is a quirky pun on this classic Cornish folk tale.
This family-owned brand operates two different ice cream parlours – one in St. Ives and the other in Porthtowan. Both of these outlets can be easily accessed by locals and tourists. There is another outlet, named "Moomaid in the Field," which overlooks the dairy farm from where it all comes.
As for the choice of flavours, you will find all the traditional favourites like Cornish Clotted Cream and Honeycomb and Vanilla Bean. You can also go for unique flavours like Salted Caramel Praline, Espresso Martini or Limoncello Lemon Curd.
2. Chapel Porth Beach Cafe, St. Agnes
Want to feel the sea breeze through your hair while savouring some delicious ice cream flavours? Then the Chapel Porth Beach Cafe is the place you need to be, for this seaside establishment offers an excellent ambience in addition to tasty ice creams.
Situated at the Chapel Porth beach near the town of St. Agnes, this ice cream parlour is renowned for its stunning coastal views and Hedgehog ice creams. This particular flavour is unique to the brand, and it contains a scoop of vanilla topped with a dollop of clotted cream and crushed hazelnuts.
Another flavour that you can try is the Fox ice cream, which consists of a coating of crumbly flapjack on top that gives it a uniquely crunchy texture.
One aspect that makes this ice cream parlour more appealing to tourists is its proximity to the south west coast path. As such, hikers can get a taste of some delicious ice creams after a long day of hiking.
3. Perran Dairy, Perranporth
Situated near the famous Perranporth beach on the northern coast of Cornwall, Perran Dairy is a very popular ice cream parlour in the region. It has been serving handmade ice cream to its customers for more than 50 years.
You can easily identify this ice cream parlour in Perranporth by its flashy pink-coloured exterior. And the inside of this parlour is just as charming as the outside, for it boasts one of the most imaginative lineups of ice cream flavours on offer. You can indulge in dreamy flavours like Blueberry Cheesecake, Jammie Dodger, Jaffa Cake or Eton Mess, to name a few.
What's more, you can find other types of treats, such as Belgian waffles, crepes, sundaes and even pizzas, if you are in the mood for something savoury. All of these aspects make this place a must-visit for any food or ice cream connoisseur.
4. Jelberts, Newlyn
Jelberts is a renowned ice cream parlour in the town of Newlyn that sells locally made ice cream. It is a bit different than other parlours because it sells only one flavour of ice cream, which is good old vanilla with a hint of clotted cream on top.
But don't let this aspect keep you away from this place. If you do, you will miss out on the best vanilla-flavoured ice cream in Cornwall. The scoops of vanilla ice cream sold at Jelberts feel truly out of this world! It is one of the simplest and most delicious ice cream flavours we have ever tasted, which is why we strongly recommend that you give it a try.
Believe us – once you taste it, you won't regret it in the slightest. After all, there's a reason why people line up in droves outside the shop during the summer months.
5. Roskilly's Organic Farm, The Lizard Peninsula
Do you intend to take a trip to the famous Lizard Peninsula on your trip to Cornwall? Then you should make it a point to visit Roskilly's Organic Farm ice cream parlour for one of the most authentic ice cream experiences in Cornwall.
This ice cream parlour, which is situated in the midst of the lush greenery of organic farmlands, offers an excellent ambience to visitors. If you wish, you can take a casual stroll through the meadows and watch the Jersey cows roaming the dairy farm – all while enjoying your ice cream treat. In short, it is an excellent place to hang out with friends and family.
Roskilly's Farm offers around 30 distinctive flavours of ice cream to customers. They are all made out of local ingredients from the farm. Apart from ice creams, you will find delectable sundaes and creamy milkshakes too.
6. Mr B's Ice Cream Parlor, Hayle
Mr B's is a Cornish ice cream brand that runs two shops in the town of Hayle. One of these outlets is located on Penpol Terrace, while the other one is at Market Square. There is also a retro-themed ice cream van, which can be hired for special occasions like weddings.
However, the most striking feature of Mr B's ice cream parlour is the vast array of eye-popping flavours that it offers. If you check out the menu, you will be spoiled for choice. From conventional picks to unique flavours – Mr B's has got it all! And besides ice cream, you will find white chocolate dipped cones, Bakewell tarts, eat-in desserts, sorbets and many more sweet treats.
All the products are made from local ingredients mixed with imported Italian ingredients, which is another notable aspect of this brand. Thus, all of these features make it one of the most sought-after ice cream parlours in Cornwall.
7. Callestick Farm Ice Cream Parlor, Truro
This ice cream parlour is another one that is situated in the middle of lush farmland and a short distance away from the northern coast. The Callestick Farm ice cream parlour is a family-owned business that has garnered quite a reputation among ice cream enthusiasts.
It is a lovely spot to relax and hang out while savouring delicious ice creams. You have around 26 flavorful options to choose from, all of which are made from locally sourced ingredients. Besides, you get a variety of other treats, as well as hot and cold drinks.
Another great feature of this ice cream parlour is that it is dog-friendly. So, as long as your furry friend is well-behaved, you can take them along with you to the parlour.
8. Tall Ships Creamery, Charlestown
Situated in the idyllic coastal village of Charlestown, this establishment is another place that ice cream aficionados need to check out. Tall Ships Creamery ice cream parlour has a rich history, which makes it an even more appealing destination to tourists and ice cream lovers alike.
The tiny shop in which the parlour operates today was once used as a weighbridge for the nearby Charlestown harbour. On that note, you can take a walk through the natural harbour while eating your ice cream. If you ask us, we'd say that it is the perfect way to satisfy both the traveller and the foodie inside you.
There are a number of flavours to choose from as well. You will notice that most of the ice cream flavours sold here have quirky seafaring names to match the ambience. For instance, there's the Oreo Ahoy flavour, which is made from delicious Oreo cookies. Likewise, the Emerald Mint flavour consists of a refreshing combo of Belgian dark chocolate and peppermint.
9. Treleavens Luxury Cornish Ice Cream Parlour, Bodmin
Do you want to visit an ice cream parlour that oozes luxury and sophistication? Then you should take a trip to the Treleavens Ice Cream Parlour in Bodmin. It is one of the most flamboyant ice cream parlours, which is why it attracts devoted ice cream connoisseurs from all over Cornwall and England.
Here, you can indulge in some of the most unique and special ice cream flavours. For instance, the rich texture of the Sticky Toffee Fudge flavour will surely tingle all your taste buds. Similarly, the Strawberries and Cream flavour will fill your mouth with an overindulgent sweetness.
The same can be said about many of the other flavours as well, all of which have their distinctive tastes and textures. In total, you can choose from 50 different flavours of ice cream.
If you are a vegan, then you will be glad to know that this parlour serves a wide variety of vegan ice cream flavours too. In addition to ice creams, the outlet serves a range of sorbets, all of which are made from the finest quality ingredients.
10. Angelato Artisan Ice Cream Bar, Truro
Located a short walk away from the iconic Truro Cathedral, the Angelato Artisan Ice Cream Bar is known for its fine selection of Italian and Cornish ice creams. If you want a taste of authentic Italian gelato in Cornwall, you have to visit this ice cream parlour.
Here, you can indulge yourself in some of the most popular ice cream flavours of all time, such as chocolate and vanilla. And if you want to take it a step further, you can try out some of the more exotic flavours like salted caramel, pistachio and mince pie. If you love ice cream as much as we do, then you will be back for seconds soon enough!
In that context, the best thing about original Italian gelato is that it contains around 50 to 60 per cent less fat than traditional ice creams. So, if you are particularly health conscious, you will find the offerings here to be perfect for your needs.
Conclusion
There are many other local ice cream parlours in Cornwall besides the ones we have already mentioned. However, these are some of the most popular ones that offer the best experience to tourists and ice cream aficionados, both in terms of flavours and ambience.
It would be best if you included these ice cream parlours in your general Cornwall travel itinerary. That way, you can not only experience the sights and sounds of this beautiful county but also get a taste of the sweet treat that is loved by so many people.
In any case, we have now arrived at the end of this guide. So, the next time you visit Cornwall, you can use the information we have provided here to satisfy your inner ice cream lover.
Related Posts
---
[wp post shortcode here]