Amidst the hustle-culture for a secure future today, everyone needs a cup of coffee to give their day an energetic start.
Whether you like drinking coffee to comfort yourself after a tiring day or to boost productivity before an important task – the beverage is there for it all. However, true coffee enthusiasts know that no one should simply opt for the first coffee spot they come across. Going for reputed cafes in Cornwall that offer a distinctive taste is a must today!
If you are looking for different kinds of coffee spots in Cornwall to diversify your palette, you are at the right place. In this blog post, we will explore the top 8 coffee spots in Cornwall that you need to check out.
Let us begin!
Top 8 Coffees Shops In Cornwall
1. Yallah Coffee
Fresh coffee beans from a single origin, sustainability, and inclusivity are the main USPs of Yallah Coffee. The staff of this Cornish coffee shop picks beans from only the best coffee farms and believes in promoting environment-friendly practices to save the future of our planet.
If you prefer hand-roasted beans over anything else, you should order coffee from this business. Since the staff prioritises orders within 24 hours, you will not have to worry about the coffee losing its peak flavour when it arrives at your doorstep.
This business does not believe in the concept of blending coffees, which is why the distinct flavour of Yallah Coffee variants are decently traceable. Hence, if you want to enjoy Cornish coffee options while positively impacting the world, you can consider getting a taste of Yallah Coffee.
Customers also get a chance to sign up for interaction with the team to dive deep into the world of Cornish coffee for educational purposes. Additionally, you can also sign up for the newsletter of this coffee spot and avail a discount of 20% on your first order.
2. The Jam Jar
If you like jams and other bakery goodies just as much as coffee, you should consider visiting The Jam Jar. It is located in the heart of Newquay in Cornwall and boasts a very cosy ambience for the customers to enjoy their culinary experiences.
While The Jam Jar is famous for several items, the business does extremely well in the aspects of coffee and jam-making. The owner of this cafe is a passionate baker who believes in picking special beans to make coffee in her cafetiere, thus providing her customers with an unforgettable taste.
There is no doubt that the cafe is doing so well. After all, The Jam Jar team picks out the best locally-produced coffee beans in Cornwall and organic milk to make the perfect cup of freshness for their customers. The cafe also provides various options for the base in their coffees, such as almond, full-cream, coconut, and oat milk!
3. Good Vibes Cafe
If you want to experience the "good vibes" of the local Cornish coffee, what would be better than exploring a cafe with the same name? Good Vibes Cafe offers its customers a comforting cup of Origin coffee, and you will be hooked to it after your first order itself.
From classic cappuccinos to special espressos, you can order your favourite coffees from the diverse menu of this cafe. The team of Good Vibes Cafe takes pride in its exceptionally skilled staff, who put their local essence into every cup of coffee.
You can combine your choice of Cornish coffee with a suitable breakfast option or pastry as well. The best thing about the Good Vibes Cafe is its belief in community building. This principle is the reason why the cafe has collaborated with several groups, such as Fitness Wild, to enhance its aspect of customer service.
4. Gylly Beach Cafe
If you like to sip your coffee while sitting in front of stunning views of mother nature, you should consider visiting Gylly Beach Cafe. It is situated in Falmouth, and the desirable seaside location of this beach cafe makes it ideal for visitors who wish to relax after exploring the county.
The coffees offered by this cafe in Cornwall have a uniquely well-balanced taste and aroma, and you can enjoy them as you gaze at the beautiful sea. The team of Gylly Beach Cafe take pride in using locally hand-roasted coffee beans in their cafeteria. Hence, you will taste the local flavour of the region with every sip of your beverage.
Visitors with special dietary preferences can also enjoy drinking the coffee of Gylly Beach Cafe, as its team offers a variety of milk options. One of the most popular beverages of this coffee spot is the Origin Resolute Espresso, so you can opt for it and let the staff know about your filter preferences.
Further, if you decide to sign up to the newsletter of this cafe, you can even avail a discount of 10% on your first order!
5. Olive & Co
While chain restaurants have their share of pros, nothing feels better than placing your first order of coffee on a family-run business. The cosiness, comfort, and ambience of such spots make you feel at home, and Olive & Co happens to be no exception to this case.
The owners of this coffee spot, Roxy and Lee, have named their business after their daughter. Located near Siblyback Lake, the cafe boasts a wide variety of coffee flavours and filter options. The staff of this cafe has undergone extensive training as well, which is evident through their warm and skilled customer service.
Olive & Co sources its hand-roasted coffee beans from various planet-friendly sources. The suppliers of this cafe are sustainable too and ensure to deliver nothing less than an elevated taste. You can combine your cup of coffee with your choice of homemade pastries here as well for an even better experience!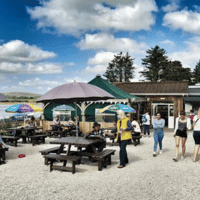 6. Picnic
Recently, the trend of options for indie alternatives has gone viral – and all for the right reasons. If you also like this trend, you should consider visiting Picnic, an independent cafe in Falmouth. It is an indie spot that has won various awards, such as the Independent Cafe Of The Year and the National Sandwich Retailer Awards.
You can choose from a wide variety of options as you visit Picnic to drink your favourite Cornish Coffee. From ready-to-go options to the ones sipped patiently, you will find that each drink is crafted expertly by the baristas of this cafe.
However, you can get your locally hand-roasted coffee cups with a complementing savoury or sweet option as well. Since this cafe has won awards in categories such as those of the best sandwiches, you should consider trying them out with your coffee to enhance your experience.
7. Rock Pool
If you are ever near the village of Mousehole in Cornwall, you should consider visiting Rock Pool. It is one of the most charming coffee spots, and you can sit in the beautiful ambience of this spot to explore the different worlds of coffee.
Rock Pool is located near a beach, too, so you can order your coffee and enjoy looking at the stunning seascape from your seat. As you sip your Cornwall coffee, you will notice how the beverage has been expertly brewed. The staff of Rock Pool sources coffee beans from speciality roasters, which explains the distinct taste of the beverage.
However, the best part about this Cornwall cafe is that it is dog-friendly. So once you are done playing with your furry friend on the beach, you can visit Rock Pool to relax in a cosy environment for a brief period. It is the perfect place to unwind after a tiring day with a cup of coffee farmed in Honduras!
8. Strong Adolfos 
If you do not like going to the mainstream and basic coffee spots, you should consider visiting Strong Adolfos. The bohemian ambience and quirky vibes of this cafe blend perfectly together, and visitors with a unique style and taste will definitely enjoy their time here.
This cafe is a combination of several ideas, which include Swedish and Cornish inspiration for construction. Further, the combo is accompanied by a biker and surfer-centric theme. While this may sound a little overwhelming, every aspect comes together surprisingly well – which is why this cafe is running so well in Cornwall.
The staff of Strong Adolfos are provided with ample training in creating Origin-based high-quality coffees. Also, you will notice how every cup of latte comes with a uniquely beautiful foam art on top, which truly enhances the overall experience of consuming this beverage.
Conclusion
The coffee spots in Cornwall offer a cosy experience to visitors, and you should consider visiting one of them on your next trip to the county. Based on your preferences, you can go to cafes and shops that source locally hand-roasted coffee beans or import the best variants, such as those farmed in Honduras or Columbia.
If you research well, you may also find a few coffee spots that offer discounts on your first order, such as Yallah Coffee. All you have to do is sign up to their newsletter and remember to give yourself some time to learn more about the discount policies of your choice of cafes.
Make sure to try out new variants of coffee at every chance you get, and learn more about the coffee palettes of the world!
Related Posts
---
[wp post shortcode here]